Home Archaeology


Ancient meditating Buddha discovered
The Buddhist Channel, April 16, 2013
Kandramanickam, Tamil Nadu (India) -- A Buddha statue in sitting dhyana (meditation) posture was recently found in Kandramanickam while carrying out field work alongwith a team which included Dr. Kudavayil Balasubramanian.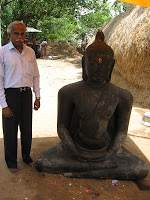 << Dr.B.Jambulingam with the Kandramanickam Buddha (2012)
During the 2012 field study conducted at the location, the statue was discovered while building works were carried out in Mettu Street.
Locals worshipped the Buddha by placing a lemon garland around it's neck. It also sported sandalwood paste and kumkum on the forehead. A lamp was found in front of the statue. Sacred ash was also kept there.
Like other Buddha statues of the Chola country this statue belonged to 10th-11th century CE era. It had smiling face, tilak mark on the forehed, elongated ears, dress over the shoulder and chest. Dharmachakra was found on the hand. Flame was found over the head. Part of nose is found broken.
After some time the Buddha statue was taken from this location and exhibited in the Government Museum at Tiruvarur.
For more details, please visit: http://ponnibuddha.blogspot.in/2013/04/buddha-statues-found-during-field-study.html