Home Archaeology


Buddhist relics found in Jingchuan County
CCTV, Dec 24, 2013
Jingchuan, China -- The famous Silk Road was a major link between China and the rest of the world for over one thousand five hundred years. And findings continue to surface in Jingchuan County, a major stop on the Silk Road.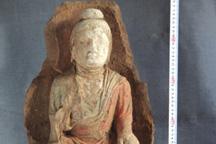 << A crucial stop on the Silk Road.
Jingchuan is located in Gansu Province in Northwest China. In early 2013, archaeologists made a unique discovery of more than 1700 Buddhist Sariras.Sariras are crystal-like objects that are said to be found among the cremated ashes of Buddhist spiritual masters.
The findings were made under the Dayun temple, a famous landmark in the area that is around 1400 years old.
China's first and only empress Wu Zetian later gave it a major makeover, lending her support to Buddhism during her early reign. Many of the Buddha statues have female features, and experts believe this was Wu Zetian's mark.
Wu Zetian received a collection of Buddhist scriptures called the Dayun scriptures from two monks in 689 AD. The scriptures contained remarks about the validity of a female ruler to govern China. Archaeologists now believe this may be the reason for her support of the Dayun temple.
Archaeologists are constantly probing for relics to reveal the secrets of China's ancient dynasties, and so it seems there is no better place to do that than along the Silk Road.