Home Archaeology


Buddhist Artifacts Found in Jajpur
By Express News Service, 31st January 2014
JAJPUR, India -- Eighteenth century Buddhist artifacts were discovered by local Buddhist researcher Harischandra Prusty in Majhipara village under Barachana block recently.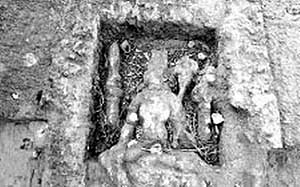 While touring the area, he discovered three broken Arghyastupas (domes) made of stone of the Buddhist era and remains of a temple. "The place where Arghyastupas were discovered is just one km from the world famous Udayagiri Buddhist monument.
The Buddhist artifacts belong to the period between eighth and eleventh century and are rarely found in the world," said Prusty. The artifacts belonged to the era when the Vajrayan sect of Buddhism was at its peak, he added.
The discovered stupas are of various sizes and shapes. The first stupa which is 3.3 feet in height carries an engraved shape of Boddhisattva in meditation posture while the 3.6 feet high second stupa bears an idol of Chatrubhuja Kurukula, a deity of the tantrik Vajrayan sect with four hands. The third stupa which is 3.9 feet high has an idol engraved on it.
"The Buddhist artifacts belong to contemporary period of the ones discovered in Buddhist shrines of Nalanda, Bodhagaya, Sarnath, Kurum and Bajragiri in India and Buddhist shrine of Java in Indonesia," Prusty said.
Notably, the remains of an ancient temple, items of pottery and a well containing water were unearthed from a field in the same village last week.