Home Archaeology


European scholars document status of Buddhist sites
The Hindu, March 1, 2015
GHANTASALA, India -- As many as six European scholars on Saturday visited Buddhist remains at Ghantasala village in Krishna district, documenting the existing conservation status and conditions of the Archaeological Survey of India's sites.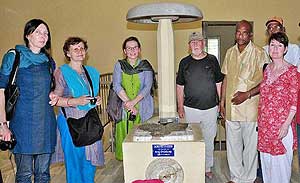 << Scholars at the Buddhist museum at Ghantasala in Krishna district.— Photo: By Arrangement
The team consisting of historians, archaeologists and research scholars belonging to the Netherlands, UK and USA. Accompanied by Machilipatnam-based historian Mohammed Silar, the team has visited Archaeological Survey of India's Buddhist museum Buddhist stupa and other Buddhist remains dating back to 2 A.D. and 3 A.D.
"We are documenting the present status of conserving the Buddhist sites in Andhra Pradesh by visiting important sites such as Ghantasala and Nagarjunakonda," Archaeologist Pia Conti told The Hindu .
She was one of the six members of the team including Anna Bennettee of London, Anna Slapzka of the Netherlands. At a times when the Archaeological Survey of India was planning to unearth Buddhist monasteries dating back to first century here, tourists from across the globe were turning up to the village to explore the glorious past of the Buddhism.