Home Archaeology


Seminar on grotto protection to be held in Shanxi
Xinhuanet, July 21, 2005
TAIYUAN, China -- An international seminar on grotto protection and research will be held at the Yungang Grottoes, a 1,500-year-old World Heritage site in northern Shanxi Province in late July.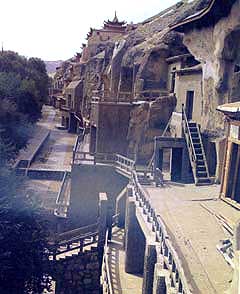 << Ancient grottoes in Dunhuang
More than 100 experts from 11 countries and regions will attend the seminar from July 26-30 to discuss grooms efflorescence, efflorescence-proof materials, the art of Buddhism in grottoes andthe protection of world heritage, said Dr. Huang Jizhong, vice president of the Yungang Grottoes Institute, the organizer.
"It is the first time for the Yungang Grottoes Institute to host such a large-scale seminar, which coincides with the 50th anniversary of the institute," said Hading.
Grottoes are man-made caves usually built on mountain cliffs and contain statues, frescos and architecture. The Chinese grotto has a history of more than 1,500 years and is a product of Buddhism and traditional Chinese culture.
China's four grottoes of Yungang, Dunhuang, Dazu and Longmen are on the list of World Cultural Heritage sites by the United Nations Educational, Scientific and Cultural Organization.