Home Archaeology


International seminar on grotto protection opens in N. China
Xinhua News Agency, July 27, 2005
Shanxi, China -- More than 300 experts from dozens of countries and regions gathered at a seminar on grottoes, which opened Tuesday at the Yungang Grottoes, a 1, 500-year-old World Heritage site in north China's Shanxi Province.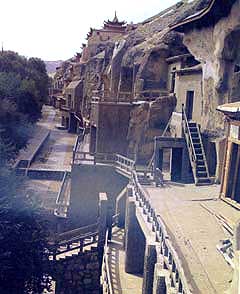 << Ancient grottoes in Dunhunag
The five-day seminar will center on the protection and study of grottoes, said the organizing committee of the seminar.
The participants will discuss grottoes, including its preservation environments, protection methods and the Buddhist art in grottoes.
The seminar will not only showcase research achievements on grottoes in terms of science, history and art, but also provide a platform to share protection theories and management experience, said Guo Zhan, a senior official with the State Administration for Culture Relics.
"It is the first time for the Yungang Grottoes Institute to host such a large-scale seminar to commemorate the 50th anniversary of the institute," said Li Zhiguo, president of the Yungang Grottoes Institute.
Grottoes are man-made caves built mostly on cliffs to house statues, frescos and architecture. With more than 1,500 years of history, the Chinese grottoes are products of Buddhism and traditional Chinese culture.
China's four grottoes of Yungang, Dunhuang, Dazu and Longmen are on the list of World Cultural Heritage sites of the United Nations Educational, Scientific and Cultural Organization.
To protect the ancient grottoes, China has set up numerous research bodies and placed the grottoes on state and provincial protection lists.