Home Archaeology


Ngari: Ancient Tibetan city
China Tibet Information Center, Nov 19, 2004
Ngari, China -- In Ngari, Southwest China's Tibet Autonomous Region, archaeologists investigated the ruins of the mysterious "Silver Castle," and discovered fantastic statues of Bon gods, which belonged to a religion prevalent on the roof of the world a millennium ago.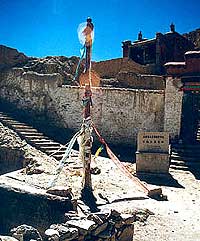 The ancient city, known as the "Silver Castle of Qionglong (today's Zhada, Ngari)," was in Tibetan legends the capital of Zhangzhung Kingdom.
It fell into oblivion in the 10th century when the Guge Kingdom was founded and Tibetans converted from the Bon religion to Buddhism. It had been forgotten until archaeologists discovered its ruins in the 1920s.
Since the investigation kicked off this June, archaeologists have been reporting amazing finds on the ruins, which lie on the northern bank of the Xiangquan (Langqen Zangbo) River and covers an area of 130,000 square metres.
"Lying before us is a magnificent castle boasting buzzing lives a millennium ago, with well-planned residential areas, ritual and public buildings, defence walls and even secret underground tunnels," said archaeologist Huo Wei from Sichuan University.
Porcelain shreds and iron tools were unearthed along with statues of Bon gods. One of them, painted in green and gold, have two faces - one on the front and one on the back.
"It's only an investigation. We'll never know what the ground is hiding from us until an excavation begins," said Huo.