Home Archaeology


Ancient Nara diaries to be displayed
The Japan Times, Feb 14, 2006
NARA, Kyodo (Japan) -- The Nara National Museum is putting on display two diaries kept by Buddhist monks, one of which is almost 900 years old, in a special exhibition starting Tuesday.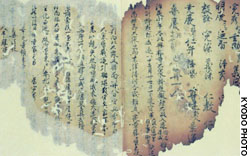 << A diary kept by Buddhist monks from the 12th to 13th centuries will be displayed in a special exhibition at the Nara National Museum starting Tuesday.
The older diary is made up of daily records from the 12th to the 13th century. The other is from the 17th century.
The Buddhist ascetics were working at Nigatsu-do Hall of Todaiji Temple, where monks still keep the daily records up to date.
The diaries include records of dramatic scenes from the history of the temple hall.
During an attack in 1180 by samurai soldiers from the Taira family group, most of Todaiji Temple except for Nigatsu-do Hall was lost in fires.
According to the diary, some of the monks then proposed that a rite called "Omizu-tori," which dates back to 752, should be canceled. But others continued the rite, carried out by monks bearing torches at night, fearing the loss of the centuries-old tradition.
The famous rite, now conducted in March, is widely considered a symbol of the arrival of spring by people in the Kansai region.