Home Archaeology


Thailand to hold exhibition on Gandhara art pieces in Pakistan
Pakistan Times, Feb 24, 2006
WAH CANTT, Pakistan -- The government of Thailand has planned to hold exhibition of master pieces of Gandhara art discovered by Pakistan besides financing the preservation of heritage.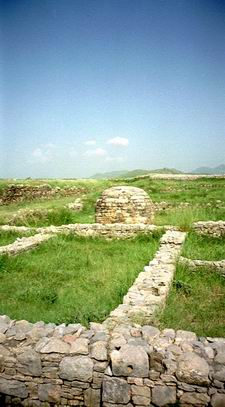 This was stated by Deputy Director Department of Archaeology Dr. Muhammad Ashraf Khan talking to newsmen here at Taxila Museum on Thursday after returning from Thailand.
The rich heritage includes sculptures of Buddha and other stupa named Badalpur found near Taxila.
Elaborating his visit to Thailand in which cultural heritage potential of Taxila was highlighted , he said Thai officials held discussions with him on various points regarding the exhibition this year at Thailand.
Perspective
The Buddha sculptures, statutes and other relics which were discovered during time-to-time excavations at the different sites of Gandhara civilization specially Taxila, he said 94 percent population of Thailand is Buddhist and value the great Buddhist treasure which Pakistan posses.
Muhammad Ashraf said we wish to promote religious tourism with Thailand in collaboration with the culture Ministry.
He said the Thai government has also planned to arrange tours of Buddhist pilgrims to Taxila and Takhat Bhai this year.
He said the Thai government has also agreed to financially support the restoration, preservation and conservation of a Buddhist monastery and stupa situated near Taxila Museum.