Home Archaeology


Indian state for declaring Sarnath as world heritage
Zee News, April 16, 2006
Lucknow, India -- The Uttar Pradesh government would make a request to the UNESCO to declare the famous Buddhist pilgrimage Sarnath as a world heritage, State principal Secretary, Tourism, Om Prakash said today.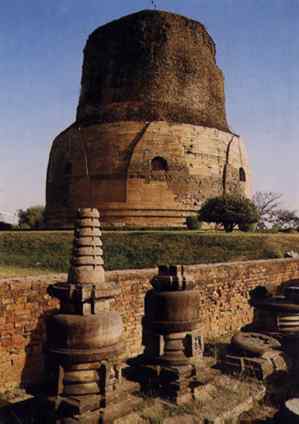 A formal request for this purpose would soon be made to the UNESCO, he said here.
Prakash said keeping in view the year-long celebrations for the 2550 'Parinirvan Varsh' of Lord Buddha, efforts were on to ensure that the Buddhist pilgrims were given all possible facilities during their visit to Sarnath where Buddha had delivered his first sermon after attaining enlightenment.
The Union Home Ministry and External Affairs Ministry would be requested to provide concession in visa fee to the foreign tourists from Budhhist nations, he said, adding the State Tourism Ministry would also write to the embassies and high commissions in this regard to popularise the programmes to be organised on the occasion.
Prakash said a special postal stamp would be released on this occasion and correspondence had been initiated with the Centre in this regard. Issuing a special coin on this occasion was also under consideration.
The Union Aviation Ministry would also be asked to prepare a air strip at Kushinagar for landing of small planes, he added.