Home Archaeology


Ancient Rahimin drawing found in Bamiyan
Zee News, Aug 9, 2006
Tokyo, Japan -- Japanese researchers said they found a seventh-century painting of a mythological Persian bird in Afghanistan`s Bamiyan ruins, showing the region`s Buddhism was influenced by pre-Islamic Iran.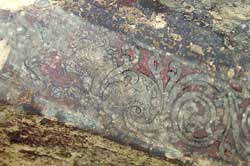 << A seventh century Buddhist image in Afghanistan's Bamiyan ruins depicts what some experts believe is Simorgh, a mythical bird with the body and wings of an eagle, the legs of a lion and the tail of a peacock.
The team unearthed an image of what appears to be a Simorgh, the giant and powerful bird that figures prominently in Zoroastrian-era Iranian legends.
The faded painting emerged after Japanese researchers removed soot from a Buddhist cave in Bamiyan, the region where Taliban Islamic extremists dynamited the world`s tallest standing Buddha statues in 2001.
"This is the first time a vivid image of this creature was confirmed" in Bamiyan, an expert involved in the project at Japan`s national research institute for cultural properties told reporters.
"This image shows that Iranian myth and Persian views were reflected in Bamiyan Buddhism. It indicates the influence of people from SOGD, the areas north of Afghanistan which covers what are now Uzbekistan and Tajikistan," he said.
However, the Japanese team called for more research, saying that some scholars believed the image could instead be a griffin from Greek mythology. Alexander the great conquered Afghanistan in the fourth century BC.