Home Archaeology


Leshan giant buddha gets a checkup
by Ji Xuewen, CCTV.com, Dec 8, 2006
Sichuan, China -- Right now, China is building a whole new inspection system for its many heritage sites. Leading the effort is a physical for the Leshan Giant Buddha, a landmark of the southwest.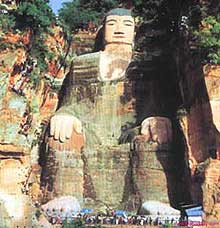 Ten years ago, the Giant Buddha was placed on the United Nation's World Heritage List. And one anniversary present is this state-of-the-art physical. A 3D laser scanning station was set up at its base.
Over the month to come, digital data will be collected on both the exterior, and the condition of the rock within. The information will be used in a diagnosis, to decide the next step.
Chen Xianshu is a deputy director of the Giant Buddha Management committee. He said, "The laser scanning system helps us gather the most precise data possible. We are setting up a database, which will enable us to protect the Giant Buddha in a scientific manner."
Carving of the riverside sculpture began in the Tang Dynasty, over a thousand years ago. The tallest Buddha in the world, it made the UNESCO Heritage list as both a scenic and cultural site. But as the years pass erosion becomes more rapid, due to destructive elements in the atmosphere.