Home Archaeology


Japanese researchers make breakthrough on destroyed Bamiyan paintings
Mainichi Shimbun, Dec 11, 2004
Bamiyan, Afghanistan -- Buddhist wall paintings in Bamiyan, destroyed by the Taliban and believed to have been created from the 6th to 8th centuries, were actually painted between the 5th and the 9th centuries, Japanese researchers have said.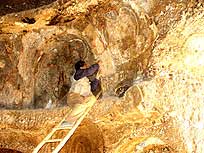 << A researcher collects wall painting material in Bamiyan.
Courtesy of National Institute for Cultural Properties, Tokyo.
A team of researchers from the Nagoya University Museum and National Research Institute for Cultural Properties, Tokyo have jointly analyzed radioactive isotopes contained in straw fiber beneath the wall paintings.
Professor Toshio Nakamura of the university and other researchers say they have succeeded in learning that the Bamiyan paintings spanned a 400-year period from the middle of the 5th to the middle of the 9th centuries.
The researchers collected 39 fragments from paintings on the walls in caves in Bamiyan, Afghanistan, from July to October last year.
Akira Miyaji, professor of Buddhist art history at Nagoya University, said that researchers would be able to learn more about cultural exchanges along the Silk Road by comparing the wall paintings' dates and their styles.
The Bamiyan cultural assets were located on the Silk Road near India, central Asia and Iran, a former crossroad of eastern and western civilizations. (Mainichi Shimbun, Japan, Dec. 11, 2004)