Home Archaeology


China's 1,459-year-old Buddha gets $10.8M facelift
The Associated Press, January 18, 2010
BEIJING, China -- China's oldest Buddhist statue, which is on the brink of collapse, is about to get a $10.8 million facelift, a state news agency reported Monday.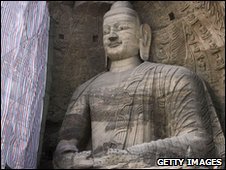 << The Mengshan Buddha is similiar to this one at Yungang, also in Shanxi
The 1,459-year-old Meng Mountain Buddha in northern Taiyuan city will be repaired and restored after seven coal mines operating nearby inflicted environmental damage, the official Xinhua News Agency reported. The mines were closed in 2007 to protect the stone statue.
The report said local authorities hope to develop tourism in the area centered on the Buddha now that the mines have closed.
The money from the Ministry of Land Resources will go toward stabilizing the statue and surrounding cliff to stop it from collapsing.
"The government funding will be used to consolidate mountain slopes, treat cracks on the Buddha statue and cliff and restore greenery on the mountain," said Qiao Qinghai, a geological official in Taiyuan, Shanxi province's capital.
ad_icon
Coal mining is a major industry in Shanxi, known for its wealthy coal barons and dangerous mines that cause environmental damage. It supplies about a quarter of the country's coal needs.