Home Archaeology


Restoration work resumes at Potala Palace
UPI, March 25, 2005
Beijing, China -- Restoration work on the famed Potala Palace in Lhasa as well as two other temples in Tibet has resumed according to Chinese state-run media reports Friday.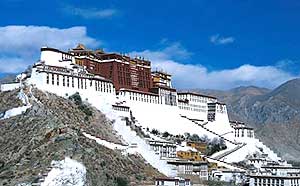 << The Potala, seat of the Dalai Lama
Xinhua said efforts to restore the Potala, the traditional winter palace of the Dalai Lama, and the summer palace called Norbulingka, both located in the Tibetan capital city of Lhasa, resumed last week after a four month hiatus for the winter season.
Work also started again at the eleventh century Sagya Lamasery located approximately 70 miles outside the city of Shigatse in southwestern Tibet. The site is known for its collection of Buddhist scriptures written in the Tibetan, Mongolian and Sanskrit languages.
In June 2002 Chinese authorities in Beijing earmarked $40 million dollars for maintenance and renovation at the three sites.
The Tibet Autonomous Region, as it is officially known in China, came under communist control in 1951.
Many of Tibet's temples and monasteries were irreparably damaged during the Mao Zedong-inspired Cultural Revolution of the 1960s and 1970s.