Home Asia Pacific South Asia Bhutan


Keep Tai Situ off Bhutan soil, King urges Manmohan
By Yatish Yadav, New Indian Express, 17 March 2013
NEW DELHI, India -- The Ministry of Home Affairs is scratching its head over a travel request from controversial Buddhist monk Tai Situ Rinpoche, who wants to visit Bhutan.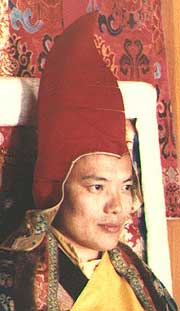 Although it appears to be a routine travel application, the issue has taken a curious turn in the North Block, in the backdrop of the Bhutanese King's request to prevent Rinpoche from entering the Himalayan nation, rated the happiest country in Asia.
Bhutan's King Jigme Khesar Namgyel Wangchuck, who was chief guest at the Republic Day Parade this year, has requested the Indian government to restrain Tai Situ Rinpoche, mentor of Karmapa Dorje, from travelling to Bhutan, top government sources said.
"Bhutan's king is understood to have conveyed to the Manmohan Singh-led government that Tai Situ Rinpoche disturbs the peace of the country during his visits by inciting clergy," sources added.
Tai Situ Rinpoche, main Guru of 17th Karmapa Orgyen Trinlay Dorje, was banned for anti-India activities in 1994, sources said. Although, the ban was revoked in 1998, his activities remained under the security and intelligence scanner.
Rinpoche has procured a Bhutanese diplomatic passport, which was issued to him by the Bhutan government under alleged Chinese pressure.
----
Editorial note: Last paragraph is inaccurate. Bhutanese passports was issued to the whole clergy of Rumtek monastic community, of which Tai Situ Rinpoche was a part, by His Majesty the 3rd King of Bhutan during the time of the King's Guru, the XVIth Gyalwa Karmapa. There was no duress from the Chinese government with whom Bhutan has no diplomatic ties