Home Asia Pacific South Asia India


India to build Buddhist temple in China
TIMES NEWS NETWORK, APRIL 11, 2005
NEW DELHI, India -- Almost two centuries ago, two Indian Buddhist monks walked up to China to change its history forever. In their quest for a new history, a surging India and a resurgent China will ink a new deal tomorrow which will give faith its due as the dealmaker between the two neighbours.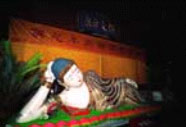 << Inside the "White Horse Temple (Baima Si)"
The upshot: a Buddhist temple to be built by the government of India at Luoyang in central China?s Henan province, the very place that became the abode of two monks in 65 AD.
New Delhi had made the suggestion to the Chinese a couple of years back which has now been accepted. When completed, the temple is expected to become an enduring symbol of centuries-old Indian influence in China and epitomise how Buddhism from India became an integral part of Chinese culture and life.
On a less metaphorical note, the temple could become an effective approach to entice the growing band of Chinese religious tourists to India by enlightening them about India?s own Buddhist centres.
According to lore, it was in 65 AD during the rule of Emperor Han Ming Di that the two monks, Kasyapa Matanga and Dharmaratna, reached Luoyang after a long and arduous journey from India, carrying with them the words of the Buddha.
The Emperor, impressed by their teachings, ordered a temple to be constructed specially. The Baima Si or the White Horse temple is the same temple and was named so since the two monks were said to have brought Buddhist sutras.