Home Asia Pacific South Asia India


Homage paid to Baba Saheb BR Ambedkar
ANI, April 15, 2005
New Delhi, India -- Indian Vice President Bhairon Singh Shekhawat lead the nation in paying homage to Baba Saheb, Dr. B. R. Ambedkar on his 114th Birth Anniversary here today.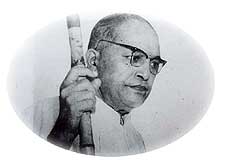 << The late Dr. B. R. Ambedkar
He offered floral tributes at the tastefully decorated statue of Baba Saheb at Sansad Bhavan Lawns in Parliament House complex this morning. The Prime Minister Dr. Manmohan Singh also offered tributes to the Father of the Indian Constitution, Dr. Ambedkar.
Among other leaders who paid floral homage to Baba Saheb included Minister of Social Justice and Empowerment Shrimati Meira Kumar, Home Minister Shri Shivraj Patil, Parliamentary Affairs Minister Ghulam Nabi Azad, Rural Development Minister Raghuvansh Prasad Singh, Ministers of State Suresh Pachauri, R. Velu and Manik Rao Gavit, Leader of the Oppostion in the Lok Sabha Shri L. K. Advani and Chief Minister of Delhi Shrimati Sheila Dixit.
Thousands of people visited the Parliament House Complex since morning to pay tributes to the messiah of the marginalised and downtrodden sections of society among chanting of slogans 'Baba Sahib Amar Rahe'.
The function began with a prayer by Buddhist monks. The artists of Song and Dram Division sang devotional songs. The function was organised by the Ambedkar Foundation.