Home Asia Pacific South Asia India


'Buddhist teachings scientifically true'
TNN Jan 10, 2013
VARANASI, India -- "Buddhism has become an area of interest for scientists for they feel that the teachings and principles of Buddhism are scientifically very true," said the Dalai Lama while addressing a congregation at Central University of Tibetan Studies at Sarnath on Wednesday.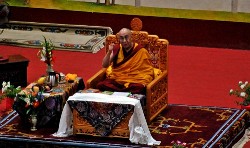 He said that he will be meeting scientists in Delhi to discuss the same from January 14 to January 17.
Notably, around 30,000 people have arrived in Varanasi to attend the four-day discourse by the Dalai Lama in Sarnath which began on Monday. Buddhist monks and nuns, monks from Himalayan region, Tibetans from different parts India and Tibet, and people of various other religious faiths were present to listen to the Nobel peace prize winner.
Meanwhile, the entire premises of Sarnath remained packed with Buddhist devotees and followers of Dalai Lama even on Wednesday. Despite the chilly and frosty conditions, devotees took their seats in time at the Kalchakra Mandap, CUTS.
Before the beginning of the discourse, devotees were given bread and salted tea as breakfast. Panna Mistri, a native of Bodh Gaya who has got expertise in preparing the salted tea informed, "The tea is prepared by boiling milk with a little water. Butter and salt are added to the content, followed by tea water.
Around 6000 litres of tea is prepared each time." Besides, the kitchen is also preparing around loaves of 21,000 bread for the devotees.
Tibetan food and local delicacies were also selling on the roads leading to the varsity.