Home Asia Pacific South Asia India


Delhi celebrates great Buddhist monk Atisa
by Meenakshi Sinha, TNN, Jan 15, 2013
NEW DELHI, India -- A three-day international conference and exhibition on Buddhism, with special focus on the great monk Atisa Dipamkara Jnana, is being held at the Indira Gandhi National Centre for the Arts (IGNCA) from Jan 16-18.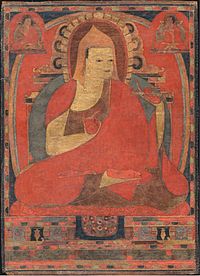 The conference is an attempt at building a cultural bridge between India and China as it brings together a bunch of brilliant minds from several countries researching the life, works, path and legacy of Atisa (as he was popularly called).
"The effort is a celebration of peace, compassion, love and sacrifice, symbolized by Atisa," says Dipali Khanna, member secretary, IGNCA.
"It's also an attempt towards rewriting a forgotten page in the history of India which highlights values and social conventions that are a need of the day," says Prof Shashibala, International Academy of Indian Culture.
Eighteen eminent scholars, monks, archaeologists, art historians, explorers and experts from museums abroad and India, will participate in the conference. These include Atmadi Brahmantyo (Indonesia), Christel Pilz (German), Dan Martin (Israel), Gabrielle Yablonsky (USA) and Liu Yongzeng (China).
The exhibition will also showcase photographs of temples, monasteries and relics of Atisa documented from remote areas of western and central Tibet and China. Documentaries on the life and legacy of Atisa will be an added attraction.
The highlight of the event will be a colourful dance performance in Odissi on 21 Taras and special interactive workshops showcasing butter sculptures of Buddhas and sand mandalas.