Home Asia Pacific South Asia India


Grand Buddha celebrations being planned in 2006
PTI, Nov 27, 2004
Varanasi, India -- Grand celebrations to commemorate the 2550th birth anniversary of Lord Buddha is being planned in 2006 with a series of lectures, cultural programmes and other events across the country and abroad.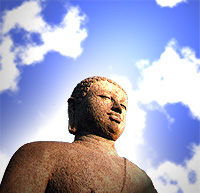 President of Maha Bodhi Society of India B K Modi told reporters here that as part of the celebration an international conference on humanism would be held at Kolkota on February 11-13, 2006.
Lectures and cultural events and screening of a film on Buddha across the country and outside would be organised to spread his message of peace in the world through love, kindness, goodwill and mutual understanding of each other, Modi told reporters.
He said the MBSI would strive for protection and preservation of Buddhist monuments at Bodhgaya, Sarnath, Kushinagar and Sanchi, its literature and documents by way of the celebrations.
The movie on Buddha, to be released in 2006, would be produced by Shekhar Kapur and Deepak Chopra at the cost of 50 million US dollars. Another 40 million US dollars would be spent on dubbing it in more than 30 languages in India and abroad.