Home Asia Pacific South Asia India


Tai Situ Rinpoche celebrate New Year with His Holiness Karmapa
by Tswang Norbu, The Times of Tibet, Feb 15, 2005
Dhramsala, India -- According to the lunar calendar, February 9 was the New Year day. Palpung Sherabling Monastery, the Monastic Seat of the 12th Tai Situ Rinpoche, hold a traditional celebration ceremony in India.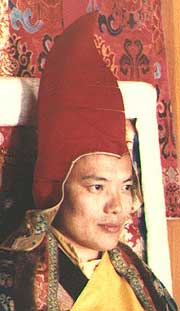 << The 12th Tai Situ Rinpoche
At the afternoon of February 9, total 22 lamas, including the Very Venerable Gangkar Rinpoche, have completed their 3-year retreat and came out from the Sherabling Retreat Centers. The very Venerable Gangkar Rinpoche and 11 lamas came out from the monks retreat center and 10 lamas from the nuns retreat center.
After coming out from the retreat centers, Gangkar Rinpoche and these lamas have been arranged to meet with Tai Situ Rinpoche and received the blessing from His Eminence Tai Situpa Rinpoche, one of the highest spiritual leaders of Tibetan Buddhism with the Red Vajra Crown.
It has been told by Lama Tenam, the secretary of Tai Situ Rinpoche, that: at end of the meeting and New Year Celebration, both of His Holiness Karmapa and Tai Situ Rinpoche wishes all the sentential beings would be happy without the suffering; all the people could be health and enlightenment and all the people will have a successful new year.