Home Asia Pacific South Asia India


Dalai Lama's teaching session ends
ANI, March 09, 2005
Dharamsala, India -- A huge number of disciples of Dalai Lama gathered in Dharamsala on the concluding day of the fortnight long annual preaching session of the Tibetan spiritual leader on Wednesday.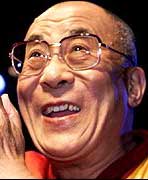 Dalai's teachings, this year, were based on "Tsongkhapas -- The Great Stages of Path (Lamrim Chenmo)", which teaches the art of developing a compassionate heart and focuses on the spirit of enlightenment."His Holiness came here. He took self-initiation and he has given us the initiation and the last part of the teachings of the great path, which we call "Lamrim Chenmo". Today is the completion of this year's teaching," said Chusang Rinpoche, a Buddhist monk.
The text also describes how Tibetan Buddhism developed Indian traditions without losing their own values. Both foreign as well as domestic monks were present on the occasion despite inclement weather.
The Buddhist spiritual leader has been living in exile in India since 1959 along with thousands of his followers after an abortive uprising against the Chinese annexation of Tibet in 1950.
The Dalai Lama assumed political responsibility of the Tibetan affairs in 1950 when he was just 15 years old, the same year when China's military occupied Tibet.
About 134,000 Tibetans live in exile, the vast majority in India or Nepal. Tibetans say more than 1.2 million fellow countrymen have died in their homeland since the Chinese occupation.