Home Asia Pacific South Asia India


Dalai Lama to hold Kalchakra ceremony in January
Press Trust of India, March 27, 2005
Dharamsala, India -- Tibetan spiritual leader the Dalai Lama will hold the Kalachakra initiation ceremony at Amravati in Andhra Pradesh in January next year, highly placed sources in the Tibetan government-in-exile said.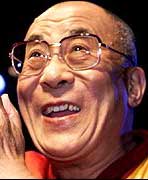 The 13-day Kalachakra ceremony will begin on January three with prelimnary teachings while the actual initiation would be given on January 13 and 14, the sources said.
A committee has been set up to overlook the preparations for the religious gathering, he said.
Amravati town is considered holy by the Buddhists as it was here that Gautam Buddha gave the first Kalachakra root tantra on the request of King Dawa Sangpo.
The ceremony is the 30th Kalachakra initiation and coincides with the 2550th anniversary of the passing way of the Buddha.
Dalai Lama gave the first Kalachakra initiation in 1954 at Norbulingka in Lhasa, Tibet.
Kalachakra or the wheel of time, an essential part of Vajrayana Buddhism, is regarded as the most secret and highest of the tantra yanas - disciplines - of the sect.
The ceremony is considered to be the largest Buddhist ritual conferred regularly by the Dalai Lama.
It is traditional Buddhist way of promoting peace, tolerance and compassion so as to keep alive people's faith in the religion.
It is through the Kalachakra initiation students are granted an authority to practise the tantra.