Home Asia Pacific South Asia India


City to celebrate Buddha's birthday
IANS, MARCH 29, 2005
KOLKATA, India -- International seminars, spiritual discourses and religious festivities will be part of a yearlong celebration planned in the city to mark the 2,550th birth anniversary of the Buddha next year.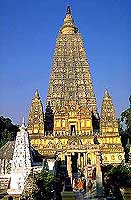 The Mahabodhi Society, an umbrella organisation of Buddhists, has planned the celebrations that would kick off with a three-day international seminar in January.
Society president B.K. Modi, the chief organiser of the birth anniversary celebrations, has already extended invitations to Buddhist groups in Japan, Sri Lanka, Singapore, Bhutan, South Korea, Thailand and Myanmar.
The city had led the 2,500th birth anniversary celebrations of the Buddha as well in 1956. Then Indian Prime Minister Jawaharlal Nehru had inaugurated the festivities.
Besides marking the occasion with a plethora of functions, 2006 would witness the launch of a film on the Buddha to be directed by Indian filmmaker Shekhar Kapur.
Modi, who will produce the English language film, is hoping to rope in Hollywood stars Richard Gere, a practising Buddhist, Sharon Stone and Goldie Hawn for the project.
Sources in the society said besides seminars and spiritual discourses in the city, several festivities have been planned in monasteries and Buddhist establishments around the country, including in northern West Bengal, Bihar, Uttar Pradesh and Madhya Pradesh.
"The details of the programmes would be finalised by September," the sources said.
Plans are to open centres for practising and learning the religion in Bodh Gaya and a cultural centre in Kushinagar in Uttar Pradesh.