Home Asia Pacific South Asia India


Bihar : Buddhists should have control over Bodh gaya temple
PTI, April 1, 2005
New Delhi, India -- Concerned that Buddhists do not have control over one of their most important temples, the National Commission for Minorities has asked the Centre and Bihar Government to ensure that management of the famous Bodh Gaya temple is vested exclusively with followers of the religion.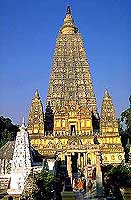 Noting that Buddhists were always in minority in the committee entrusted with managing the temple because of the provisions of the Bodh Gaya Temple Act, 1949, the NCM said the legislation should either be amended or repealed and appropriate law enacted in favour of Buddhists.
"The provisions of the Act are not in harmony with the fundamental rights enshrined in Article 26 of the Constitution guaranteeing the right to freedom to every religious denomination to manage their respective religious affairs," the NCM said in a statement today.
A nine-member committee presently manages the Temple including the Mahabodi Mahavihara, the temple land and other properties.
According to Buddhist scriptures, Gautam Buddha attained enlightenment in the temple in Gaya in Bihar.
Welcoming the NCM move, Shanti Swarup Baudh, Organisational Secretary of the Buddhist Society here, said the issue of control of the temple dated back several centuries and hoped it would be resolved soon.