Home Asia Pacific South Asia India


Dalai Lama to visit Japan
Daily Times, April 6, 2005
DHARAMSALA, India -- Exiled Tibetan spiritual leader the Dalai Lama begins an 11-day trip to Japan on Friday, his office announced.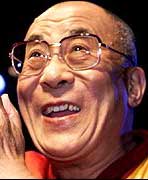 << The Dalai Lama
The visit will take the Buddhist figure to Tokyo, Kyoto, and Kumamoto and Kanazawa prefectures. However, he was not expected to meet with any politicians due to Japan?s sensitive ties with China.
?The visit is purely religious. His Holiness will be engaged in public talks and teachings,? said Tenzin Taklha, the Dalai Lama?s secretary. No Japanese leader has met the Dalai Lama on nine previous trips to Japan.
China has reportedly objected to the latest visit and asked Japan not to issue a visa to a man it brands a ?separatist?.
The Dalai Lama has run a government-in-exile from India since fleeing Tibet in 1959 after a failed uprising against China?s Communist rule.