Home Asia Pacific South Asia Sri Lanka


Sri Lanka prescribes safe menu for Buddhist monks
Press Trust of India, November 27, 2012
Colombo, Sri Lanka -- Concerned over the unhealthy diet of Buddhist monks in Sri Lanka, health authorities are to introduce a new food menu for them.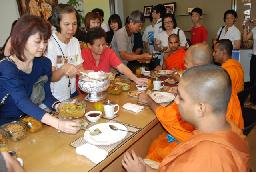 "The Buddhist monks are offered alms (free offering of meals) by their devotees with most respect. They take extra care to ensure that food offered are rich in taste. But food so offered has caused health problems for the monks," Maithripala Sirisena, the minister of health said.
The ministry of health says that rich food offered to monks have caused diabetic and blood pressure ailments among them.
As a remedial measure, the ministry would issue a special safe food menu on December 16.
A health ministry specialist nutritionist is currently preparing the menu, the ministry said.
Alms or offering off meals to monks at lunch time is believed by the Buddhists to be a meritorious act.
The merits so accrued are expected to provide one and their dead relatives with a better life in the next birth according to Buddhist teachings.