Home Asia Pacific South Asia Sri Lanka


Sri Lankan President visits China's Lingguang Buddhist Temple
ColomboPage News Desk, May 28, 2013
Colombo, Sri Lanka -- Beijing: President Mahinda Rajapaksa and First Lady Shiranthi Wikaramasinghe Rajapaksa, along with members of the Sri Lankan delegation, visited the Lingguang Buddhist Temple located on the outskirts of Beijing Monday.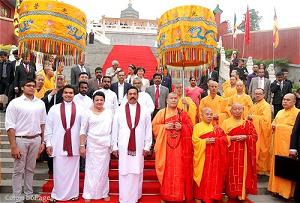 The chief incumbent most venerable Chang Zang and fellow monks welcomed the President, the First Lady and the delegation, and invoked blessings.
The temple, which was established 1,200 years ago, has become a center for Buddhist pilgrims because of the Buddha tooth relic that it houses. The only other recognized tooth relic of the Buddha is located in the Sri Dalada Maligawa (Sacred Temple of the Tooth Relic) in Sri Lanka. The tooth relic at the Lingguang Temple had first been taken to what is now Pakistan after the passing of the Buddha before it was brought to China.
President Rajapaksa donated a gold-plated Buddha statue to the temple when he visited China in 2007.
Minister of External Affairs Prof. G.L. Peiris, Ministers Wimal Weerawansa and Douglas Devananda, Parliamentarians A.H.M. Azwer and Namal Rajapaksa, Chief-of-Staff Gamini Senarath and Sri Lanka's Ambassador in China Ranjith Uyangoda were also present.