Home Asia Pacific South Asia Sri Lanka


Convocation of International Buddhist Education Institute under President's patronage
The Buddhist Channel, Aug 13, 2014
Colombo, Sri Lanka -- Convocation of the International Buddhist Education Institute was held at Pallekele under the patronage of President Mahinda Rajapaksa on Saturday.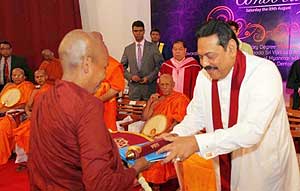 This is the 2nd convocation of the International Buddhist Education Institute in Sri Lanka which is connected to the Maha Chulalankaro University in Thailand. About 352 clergy and laymen graduates were conferred with degrees at this ceremony.
The President also offered credentials of "Saddhamma Jothika Dhaja" honorary title given by the Myanmar government to the Anu Nayaka of the Malwatta Chapter Venerable Dr. Niyangoda Vijithasiri Thero at this ceremony. A book compiled by Venerable Buddharakkhitha Thero of Uganda was offered to the President at this event.
The International Buddhist Education Institute also offered a souvenir to the President. Maha Sangha including Chief Incumbent of Atamasthanaya Venerable Pallegama Sirinivasa Thero and the Chief Incumbent of the Sri Padasthanaya Venerable Bengamuwe Dhammadinna Thero and a large number of distinguished guests were present at this event.