Home Asia Pacific South Asia Sri Lanka


Buddhist monks warn of self-immolation if Indian show goes on
The Hindu News Update Service (AP), Dec 10, 2004
Colombo, Sri Lanka -- Buddhist monks may set themselves on fire in protest unless organisers postpone a concert of Indian film stars that coincides with the anniversary of a cleric's death, a monk said today.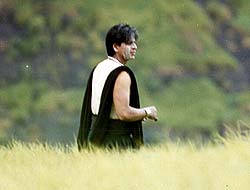 Tomorrow's planned concert featuring Bollywood actor Shahrukh Khan would come a day before the first anniversary of the death of Gangodawila Soma, who campaigned against Christian conversions of Buddhists.
Buddhist monks have said the weekend should be reserved for religious observances and have vowed to launch protests to stop the show.
"This may include self-immolation," Rathmalana Seelawansa, a monk who supports the clergy-backed opposition National Heritage Party, told reporters as dozens of his saffron-robed colleagues marched to the venue in the capital, Colombo.
"We are not against individuals, but people must also understand our sentiments," Seelakansa said.
There was no word from the organisers on the monks' demand, but the hotel where the Indian stars will stay said that half of them have already checked in.
Called 'Temptation 2004', the show also features Preity Zinta, Saif Ali Khan, Priyanka Chopra and Celina Jaitley.
The monks are a powerful political force because the overwhelming majority of Sri Lankans are Buddhists.
Soma died while on a visit to Russia. Although doctors said he died of a heart attack, some Buddhists blame Christians for his death, and there was a surge of attacks on churches for months after he died.