Home Asia Pacific South Asia Sri Lanka


Sri Lanka vows to punish bombers
PRESS TRUST OF INDIA, December 14, 2004
COLOMBO, Sri Lanka -- Sri Lanka today vowed to punish those responsible for a bomb blast at Shah Rukh Khan?s mega concert here even as the main Buddhist group which had initially opposed the event denied any involvement in the attack.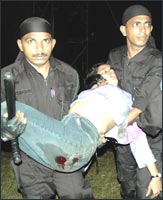 "The security authorities are conducting intense investigations into the incident on a priority basis and will spare no effort to bring the offenders to justice,?? the government said in a statement here.

Two people were killed and 19 others, including the wife of former cricketer Ravi Shastri, were injured in the explosion on Saturday night at Colombo?s former race course where Khan, along with many Bollywood stars, was performing his ?Temptation 2004? concert.
The main Buddhist group which opposed the concert saying it coincided with the first death anniversary of a popular monk, today joined those condemning the bombing and denied they had any involvement in the attack.
Monk Ratmalane Seelawansa, who had taken part in a fast against the concert, said they had peacefully ended their agitation after Khan apologised to them over the bad timing of the concert.
He, however, blamed the government for using force to disperse crowds before the concert began. Influential Buddhist clergy had yesterday blamed the government for the bomb explosion and accusing it of not taking adequate security measures.