Home Asia Pacific North Asia Japan


Dalai Lama Teaches Nagarjuna's Boddhicita in Japan
TibetNet, April 18, 2005
Kanazawa, Japan -- His Holiness the Dalai Lama had a day?s rest on 15 April. His Holiness granted audience to a group of Japanese priests, President of Goi Peace Foundation and a group of Korean Buddhists who have come all the way from Korea to attend His Holiness? teachings on Boddhicita. The Korean monks and nuns wept in joy and expressed their happiness to have the blessing of His Holiness. The devout Koreans said that they wished to see His Holiness in Tibet in the near future.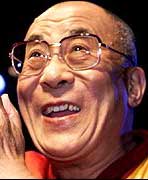 His Holiness gave teachings on Boddhicita by Nagarjuna on Saturday and Sunday. About 1500 devotees attended the teachings. There were devotees also from North America, Australia, Russia, and China. Amongst the Japanese attendees there were several priests, artistes and intellectuals.
At the conclusion of the teaching His Holiness expressed His appreciation for having the opportunity to teach a major Buddhist text. His Holiness observed that it is the first time that His Holiness gave Buddhist teachings on a major text such as the Boddhicita by Nagarjuna.
His Holiness leaves this morning for Tokyo by train via Kyoto. His Holiness will halt for half an hour at Nishi Ongangji, one of the most important Buddhist temples in Japan.
His Holiness will arrive in New Delhi on 19 April and leave for Gangtok on a weeklong visit.