Home Asia Pacific North Asia Japan


School boys shave their heads as part of Buddhist vows
Mainichi Shimbun, Aug 4, 2005
KYOTO, Japan -- About 190 elementary and junior high school students from across Japan entered the Buddhist priesthood at Higashi-Honganji Temple on Thursday.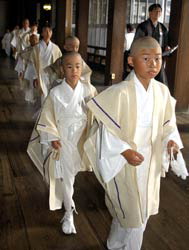 << Students are pictured at Higashi Honganji Temple
The initiation ceremony for students to take their vows is called tokudo-shiki in Japanese.
Higashi-Honganji Temple in Kyoto's Shimogyo-ku is the headquarters of the Shinshu Otani school of Buddhism, and the school was founded by Shinran.
As Shinran entered the Buddhist priesthood at age 9, boys and girls of the same age or older traditionally take part in the ceremony at the temple.
A total of 81 students who are 9 years old took part. The ceremony is held at the temple on the 7th day of each month between February and November.
The ceremony is held twice in August because many students are on summer holidays.