Home Asia Pacific North Asia Japan


Funky Buddha: Monk MC Has Hip-Hop Habit
by Tom Bonnett, Sky News Online, February 04, 2010
Tokyo, Japan -- A hip-hop monk nicknamed MC Happiness has started rocking audiences in Japan by rapping traditional Buddhist sutras over thugged-out beats.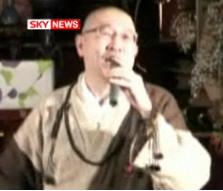 Kansho Tagai was blown away when he first heard hip-hop because even though he couldn't understand the English lyrics he still felt the vibes.

He likened it to reading sutras at his temple - as most of his audiences are unable to understand the ancient language in which the sacred texts are written.

Inspired by the accessibility of rap, he set about trying to spread the word of Buddha to a younger generation by writing rhymes that teach old-skool lessons in modern Japanese.

He began inviting children, students and artists to visit his temple for some untraditional teachings - and they were impressed by his mad skills.

Buddhist follower Yuriko Watanabe said: "He really amazes everyone with his talent. When I first saw him on the stage, I was like 'Wow!'"

Tagai now holds it down in front of audiences full of streetwise kids dressed head-to-toe in sportswear.

But he isn't stopping there - he has big plans for the future.

He's perfected the moonwalk, he plans to break out his first freestyle rap any day now and soon he is hoping to drop bombs on the dancefloor with a new twist on the genre - hip-hop tap dancing.