Home Asia Pacific North Asia China


108 monks attend Guanyin enshrining ceremony
Xinhuanet, April 24, 2005
BEIJING, China -- A total of 108 eminent monks from the Chinese mainland, Taiwan Province, Hong Kong and Macao, sang in unison during the enshrining ceremony of a statue of Guanyin, or Bodhisattva, in Sanya, Hainan Province yesterday.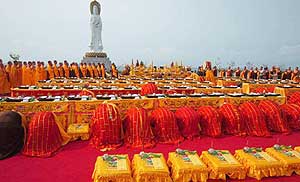 The 108-metre-high statue is located on a small man-made island just off the coast of Sanya.
Thousands of Buddhists attended the ceremony and sang Buddhist doctrines with the monks in devotion to Guanyin, the goddess of mercy, wisdom and harmony.
It was the first time since 1949 that reputed monks from the Chinese mainland, Taiwan, Hong Kong and Macao had gathered for such a ceremony, said Zhou Xiong, director of the Information Office of the local government of Sanya.
Yesterday afternoon, Jia Qinglin, chairman of the Chinese People's Political Consultative Conference National Committee, met the representatives from Buddhist circles. Jia said he hoped Buddhists could aid the drive towards the reunification of the Chinese mainland and Taiwan.