Home Asia Pacific North Asia China


Drifting sand hits Dunhuang
Xinhuanetm, May 27, 2005
LANZHOU, China -- Unexpected drifting sand hit Dunhuang, a tourist resort in Gansu Province known for ancient Buddhist grottos, Friday evening, local meteorological station said.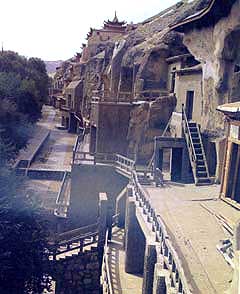 Windstorms stirred up sands in the sky, lowering the visibility to less than ten meters. Vehicles could only operate at a speed ofless than 20 kilometers per hour.
The sandstorm erupted at about 7 p.m. local time and continued for about 40 minutes.
The unexpected drifting sand was triggered by continuous high temperatures in the past several days and the latest arrival of cold air in Dunhuang, said Tan Jizhi, the local weather forecast reporter on duty Friday.
No damage was reported in the tourist spot.