Home Asia Pacific North Asia China


Buddhist monks seek business solutions
AP, September 8, 2005
SHANGHAI, China -- Call it Zen and the art of business management. Proving that in China's booming commercial hub of Shanghai, even Buddhism is big business, a group of 18 Buddhist monks and lay people are taking MBA classes to better manage their temple, the official Xinhua News Agency reported Wednesday.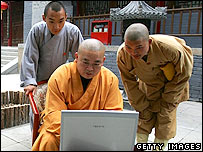 << Monks in China are working hard to protect their heritage
The course, specially designed by Shanghai's Jiaotong University, teaches temple management and corporate strategy, along with marketing religious articles. Monks also will gain some tips on how to get ahead in business from Sun Tzu's ''The Art of War,'' the report said.
High-tech temple
''Through this program, we want to learn how the secular world is managed,'' said Chang Chun, a Zen Buddhist monk who serves as general manager of the city's Jade Buddha Temple, according to Xinhua.
Thousands of Buddhist temples have been restored or rebuilt in the last quarter decade, largely to attract tourists.
In one extreme example, a ruined Buddhist pagoda in the ancient lakeside city of Hangzhou was recently rebuilt in glass, steel and concrete, complete with escalators, elevators and touch-screen electronic guides.