Home Asia Pacific North Asia China


Shaolin Temple welcomes Lunar New Year
Xinhuanet, Feb 8, 005
ZHENGZHOU, China -- A bell ringing ceremony is scheduled at 10:30 Tuesday night in the famous Shaolin Temple in central China's Henan Province to celebrate the Chinese Lunar New Year.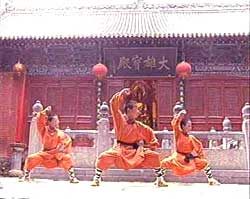 It is a special ceremony hosted by Buddhist monks to pray the country a happy and peaceful Year of Rooster, said Master Shi Yongxin, abbot of the temple.
Every year, a large number of visitors from both at home and abroad come to the temple to attend the ceremony, at which monks ring the bell for 365 times, symbols to drive evils away and welcome happiness and good luck of the new year, said the Buddhist master.
"This year, we have added something special to the ceremony -- First, we will have seven orphans to ring the bell with monks and a total of 356 oil lamps will be ignited for a Buddhist service toteach the Buddhist doctrine for young monks," said the abbot.
Shaolin Temple, home of the famous Shaolin Boxing, is located in Songshan Mountain in Dengfeng City, which is about 40 miles southwest of the provincial capital Zhengzhou.
Built in the Northern and Southern Dynasties (420-589), the temple was originally constructed for Bodhidharma, the legendary Indian monk who came to China to spread Buddhism and introduce Indian forms of exercise. The Chinese monks that he gathered here as followers combined this with Chinese techniques to produce thisunique form of martial arts, which are widely known in the West as"kungfu".