Home Asia Pacific Oceania Australia


WHAT do you cook when the Dalai Lama comes to dinner?
by Geoff Shearer, The Courier-Mail, June 11, 2011
Melbourne, Australia -- MasterChef Australia contestants have been thinking about that all night after being told late yesterday they would be cooking for His Holiness today in Melbourne.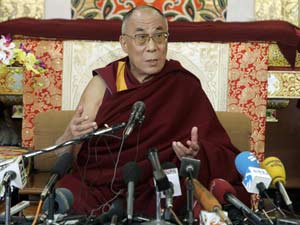 The Buddhist leader will sit on the MasterChef judging panel in a one-off episode being filmed today and set to air on TV next month.
The contestants' challenge will be to serve a hot lunch to the Dalai Lama, who recently stood down as Tibet's political leader in exile.
The Dalai Lama, who touched down in Melbourne on Thursday and has speaking engagements on the Sunshine Coast and in Brisbane from Wednesday to Friday, was approached last year to be on the popular cooking show.
"Kylie Kwong, who we consider part of the MasterChef family, approached us at the end of last year," said MasterChef series producer Caroline Spencer.
"She's a practising Buddhist and, along with His Holiness' representatives in Australia, asked whether we would be interested in opening up a conversation about him coming on the show. And we fell off our chairs.
"He adores food. It kind of speaks to the whole thing we're trying to do; to show that food is that important."
MasterChef production staff were not expecting any "diva" moments on set today.
"No, he had no demands," Ms Spencer said. "I think a lot of people should take a leaf out of his book."