Home Asia Pacific Oceania Australia


Vietnamese leader mourned
by Jessica Willoughby, Guardian Express, Jul 26, 2011
Le Tan Kiet acted from his heart. Le Tan Kiet acted from his heart
Northbridge, NSW (Australia) -- Western Australia's multicultural community is mourning the loss of Le Tan Kiet, president of the Vietnamese Buddhist Association.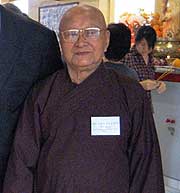 Mr Le leaves a legacy of compassion and friendship after serving his fellow countrymen for more than three decades.

He arrived in WA with his family in 1979 when aged 61 , not long after the first wave of Vietnamese refugees came to Australia.

Establishing the association and first Buddhist temple in the State in Northbridge 32 years ago, Mr Le became a role model for the Asian community by helping to bridge the gap between the differing cultures.

He sponsored more than 600 refugees to live in Australia and was a tireless campaigner against mandatory detention.

Family friend Simon Nguyen said Mr Le was a man who acted from the heart. "His passing will leave a huge gap in the Vietnamese community," he said.

"He wanted the Vietnamese to contribute to the country, rather than just being a subset. He always pushed people to achieve their best, in a compassionate way."

Mr Le died aged 93. More than 3000 people attended his funeral, which was held at his Money Street temple earlier this month.