Home Asia Pacific Oceania Australia


Local Buddhist community mark four years since the planting of the Bonnyrigg Bodhi Tree
BY LAUREN MCMAH, Fairfield Advance, Dec 18, 2012
Fairfield, Australia -- MEMBERS of the local Buddhist community have held a ceremony to mark four years since the planting of the Bonnyrigg Bodhi Tree.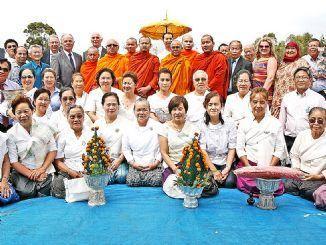 The tree, located in the Bonnyrigg Town Centre Park, represents the Buddhist belief that Buddha found enlightenment under a bodhi tree.
More than 200 Lao Buddhists and members of local interfaith groups took part in the Contemplating Peace Under the Bodhi Tree event late last month.
"Prayers were made by members of the Christian, Muslim and Buddhist faiths, new robes were offered to the Buddhist monks and a parade was held in honour of the tree," a Fairfield Council spokeswoman said.
The council planted the tree in 2008 to coincide with the launch of the Bonnyrigg logo, which features a bodhi leaf alongside a gumleaf.
The Lao Buddhist Society of NSW has taken guardianship of the tree since then.