Home Asia Pacific Oceania Australia


Monks bring Tibetan culture to Border
By SUE WALLACE, The Border Mail, June 25, 2005
Albury, Victoria (Australia) -- A GROUP of Tibetan monks will bring their rich culture to the Border next week. Five monks from the monasteries of India will share their dance, music and traditions of Tibet and its people.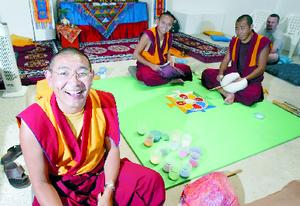 << Geshe Sonam Thargye and other Tibetan monks are coming to Albury next week.
Geshe Sonam Thargye said the monks aim was to share some|of the most distinctive aspects|of Tibetan culture with Australians.
The monks will be in Albury on Monday at the Creators Art Space, Gateway Village, and will start work at 3pm on a sand mandala, which is a colourful and intricate work of art and an ancient symbol of the enlightened mind.
The public can watch the sand mandala grow from 9.30am to 5.30pm daily.
Guided meditation workshops will be held on Tuesday and Thursday from 8.30am at the Creators Art Space.
A Tibetan Buddhist dance performance will be held on July 1 at the Henry Nowik Theatre, Albury from 7.30pm to 9pm.