Home Asia Pacific Oceania Australia


Dalai Lama to visit Australia in 2007
The Age, July 6, 2005
Sydney, Australia -- The Dalai Lama, who is celebrating his 70th birthday, will visit Australia and New Zealand in 2007.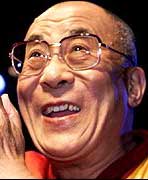 The Tibetan Buddhist spiritual leader accepted an invitation earlier this week from Australia Tibet Council chairman George Farley. It will be Dalai Lama's fifth visit to Australia and New Zealand.
"I would like to assure my Australian and New Zealand friends that despite having reached the age of 70, I will continue to work for a more peaceful world, for the preservation of Tibet's unique culture and religion, and for a peaceful and just settlement to the Tibetan situation," the Dalai Lama said in a statement.
"I very much appreciate the support that many thousands of people of goodwill from around the world have given to these efforts, and sincerely appreciate your assurance that this assistance will continue in the future."
The Dalai Lama has been pursuing a peaceful settlement of the Tibetan situation since he went into exile in 1959.
He proposes that Tibet have internal autonomy but remain part of China. The latest round of talks with Chinese officials were in Switzerland last week.