Home Asia Pacific Oceania Australia


International conference examine issues on fundamentalism
by Oon Yeoh, The Buddhist Channel, June 10, 2006
Perth, Australia -- When you are dealing with fundamentalists (who are sometimes not only unreasonable but also violent and belligerent) what do you do?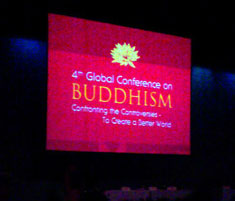 That to me is the gist of the audience's questions but none of the speakers answered it directly or well. The general answer they gave was that "peace is the best way".
I know that, you know that, we all know that. If real life was only that easy. Who in their right mind doesn't want peace? But what do you do when the other party doesn't believe in peace? Do you just let them have their way?