Home Asia Pacific Oceania Australia


Buddhist abbot approves Shoalhaven tourism site
Australia Buddhist Corporation, August 3, 2006
Shoalhaven, Australia -- The Venerable Abbot Shi Yong Xin has inspected land at Comberton Grange where he hopes to build a Shaolin Temple, Tourism and Residential Development.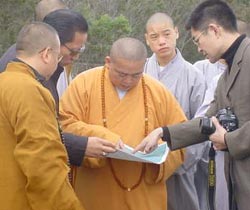 << The Abbot looks over the plans for the Temple at Comberton Grange with his investors.
Shoalhaven City Council representatives travelled to China earlier this year to sign a memorandum of understanding with the Abbot stating that the land at Comberton Grange will be sold to him if the State Government approves the development.
The proposal is currently before the State Planning Minister, Frank Sartor who is expected to make a decision by the end of August.
During his tour, the Abbot and his party that included monks from China and potential investors, inspected the local beaches and a sandstone quarry near the proposed temple site, which the council has agreed to include in the sale of the land.
Shi Yong Xin also inspected the land at Comberton Grange where he hopes to build the temple both on foot, and from the air in a helicopter.