Home Asia Pacific Oceania Australia


Dalai Lama to visit Australia in 2007
The Australian, August 28, 2006
Sydney, Australia -- The Dalai Lama will visit Australia in June next year, giving free public lectures on religious tolerance.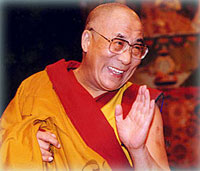 << The Dalai Lama, to visit Australia in June 2007
The Tibetan Buddhist spiritual leader's 11-day visit will take him to Perth, Melbourne, Canberra, Brisbane and Sydney, where the theme for his lectures will be Open Arms – Embracing Kindness.
The 71-year-old Nobel Peace Laureate will talk about the role people can play in creating a more compassionate world, according to the Australian Buddhists organising the tour.
His lectures also will focus on the role for all the world's religions in achieving global peace.
Youth events are planned in both Sydney and Melbourne during his visits. About 20,000 people were expected to attend the events nationwide, the organisers said.
It will be the Dalai Lama's fifth visit to Australia and New Zealand. The Dalai Lama has been pursuing a peaceful settlement of the Tibetan situation since he went into exile in 1959.
He proposes that Tibet should have internal autonomy but remain part of China.