Home Asia Pacific Oceania Australia


Bendigo to support Dalai Lama visit
Bendigo News, October 20, 2006
Bendigo, Australia -- The City of Greater Bendigo will support a visit to Bendigo by his Holiness the Dalai Lama in June next year. Mayor of the City, Cr David Jones is anticipating the visit will provide opportunities for Bendigo, including an event that is set to attract international attention.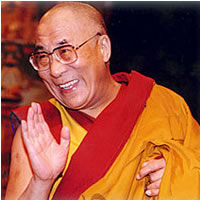 << HH Dalai Lama will visit Bendigo, Australia on July 7, 2007
The Dalai Lama is scheduled to come to Australia only for a few days and will visit Bendigo on July 7 ahead of Melbourne and Sydney.
"The Dalai Lama is coming to Bendigo to visit the Great Stupa at Myers Flat which when completed, will be the largest Buddhist monument in the world outside of Asia." Cr Jones said yesterday.
"It is definitely a coup for Bendigo to have a person of such significance on the world stage come to our city and the City of Greater Bendigo is pleased to support the visit with both cash and in kind assistance."
Cr Jones said it was rare to have a person of such significance on the world stage to visit our region.
"The Dalai Lama is an internationally recognised and most trusted world leader and one of the most well known people in the world. He is a winner of the Nobel Peace Prize and an advocate of non-violence and tolerance."
The visit is being organised by local Bendigo resident, businessman and head of the Great Stupa Project Ian Green who is also the Chairman of the Dalai Lama's Australian Visit Organising Committee.