Home Asia Pacific Oceania Australia


Tibetan community welcomes Dalai Lama to Sydney
ABC News Online, June 14, 2007
Sydney, Australia -- Hundreds of people from Sydney's Tibetan community have turned out to welcome the 14th Dalai Lama at Sydney Airport.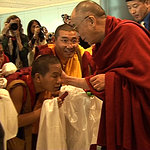 << The Dalai Lama was greeted by hundreds of people at Sydney Airport (ABC News)

A long line of monks, Tibetans and well-wishers waited at the airport's arrival terminal this morning to welcome His Holiness.

Many in the crowd wore traditional dress, and held paper lotus flowers - a sign of compassion and peace.

As the Dalai Lama entered the arrivals foyer, the crowd fell silent and bent down to greet the man described as 'a living God.'

After greeting the crowd, he told a news conference that embracing what he calls "human values" is the key to emotional and physical wellbeing.

"When I say human values, not necessarily with religious faith, but I usually call "secular ethics" such as warm-heartedness and sense of community," he said.

During his stay in Sydney, the Dalai Lama and a number of speakers from Australia and overseas will appear at the International Conference on Happiness and Its Causes.

He will meet John Howard tomorrow afternoon, despite the Prime Minister saying earlier that he would not hold talks with the spiritual leader.

His Holiness will also be a guest at Friday's One Earth Tribute Concert in the Domain.

The Dalai Lama will be in Sydney for three days before heading to New Zealand.