Home Asia Pacific Oceania Australia


Two decades of work reaches fruition
The Advertiser, January 13, 2005
Bendigo, Australia -- Almost 24 years in the making, The Great Stupa Exhibition Centre will officially open in Bendigo on Saturday. The opening is expected to draw monks, nuns and Buddhists from across Australia.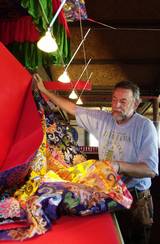 << HANDS ON: Peter Stripes helps hang the silk brocade.
The Dalai Lama's representative in Australia, Tenzin Phuntsok Atisha, will perform the official opening, which will be followed by chanting and prayers.
Minister for Agriculture Bob Cameron and City of Greater Bendigo mayor Rod Fyffe are expected to attend. The Great Stupa CEO Ian Green said the opening of the centre would be an opportunity for visitors to look at rarely-seen relics and holy objects on display.
"It is a rare opportunity to see these things on display, which would normally be locked away," he saidMr Green said it was exciting to see it open and expected it to act as a Buddhist centre for Australia.
He said the centre would also be an added tourist attraction for the region.
"It is a fantastic attraction for Bendigo," he said.
Buddhist Council of Victoria chairman Brian Ashen said the centre was very significant for the Buddhist community.
"It shows Buddhism has significantly established itself in Australia,"he said.
"The centre is built to last for 1000 years and will be in use for many generations to come."About 500,000 people in Australia follow Buddhism.
"At an international level it makes people sit up and take notice," he said.
After Saturday the centre will be open every weekend and public holiday.
Entry is free.